Conquer Frustration Using The Proper Golf Psychology
Golf Psychology – Conquer Frustration!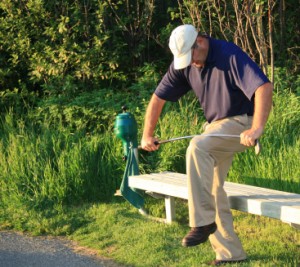 If you want to get off the emotional roller coaster of golf, here is the exact golf psychology you need.
First, you must realize that anger and frustration are not a problem.
It's perfectly natural to get mad if you're under-performing out there.
It's how you CHANNEL your anger that counts.
Most golfers channel their anger into destructive self-criticism.
This is the same thing as being too hard on yourself.
If you do this, not only are you going to be on an emotional roller coaster, but you'll be a bad golf student.
Here's why.
As long as you are criticizing yourself for your golf play you cannot get to your good feelings about yourself.
When you self-criticize in a destructive way, you are creating shame. You are saying to yourself, 'I'm not good enough.'
Unconsciously, you are assuming you cannot get the results you want on the golf course.
This is based on a view of yourself that says, 'I can't do it.'
There is a better mental golf psychology.
You tap into your personal pride.
That is, you channel your anger into pride.
You are saying, 'I'm better than that!'
Then ask yourself to achieve a SPECIFIC goal.
Do you need to change your stance?
Read the greens better?
Keep your eye on the ball?
Meg Mallon, two-time Women's Open Champion, says that the secret to her success is knowing exactly what she wants from herself when she plays.
"When I practice, I have a target and a goal for every shot. This gives me constant feedback on whether I need to fix something or whether I can go ahead and groove what I'm doing."
This simple two step way of dealing with anger is based on a confident view of yourself that says, 'I can do it.'
To recap…
1. Channel your anger into pride. "I'm better than this!"

2. Use your anger to achieve SPECIFIC goal on your next shot.
This formula will get you off the roller coast of golf so you can lower your score and win under pressure.
In my Ebook, Breakthrough Golf! I give you a roadmap for supreme confidence under pressure when golfing.
These principles have helped me and over 3,000 athletes and coaches to build unstoppable confidence from the inside out.
Confidence is the gift that keeps on giving.
It keeps you motivated, passionate, and ready to compete.
You can dramatically skyrocket your golf psychology today. Simply download Breakthrough Golf! today with my FREE seven day trial here.
Your friend,
Lisa B.