Golf Psychology Tips: How To Deal With Irritating Golfers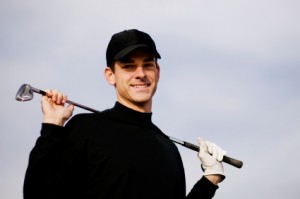 Mental Golf Psychology to Shield Yourself from Irritation
Woody Allen may not have been a golf psychology expert, but he did say, "80% of problems come with hair on top."
If you get annoyed by golfers who play slowly or comment on EVERY shot, you know what I'm talking about.
When other golfers irritate you, it's usually because there's something on your mind – like winning, a low score, or an important putt.
This is called PRESSING, and if you're doing it, you're probably not playing very well.
PRESSING is a golf psychology term for when you're putting pressure on yourself.
You've made the classic mental golf mistake dwelling on your performance or winning, two things not under your control.

Only…you don't realize it.

That's why it's actually a good sign when other golfers irritate you.
In golf, the moment you want to tell other players to smarten up, it's a sign you are PRESSING.
PRESSING is the enemy of all good performance in golf, because when you're pressing you take your focus off the right things (under your control) and put it on the wrong things (not under your control).
That's why PRESSING IS definitely not for you.
Pressing Psychology of Golf example; Rory Sabattini and Ben Crane
In 2005, PGA fast player Rory Sabattini and slow player Ben Crane were paired together in the Booz Allen Classic – and their group was put on the clock.
When a group is put on the clock, the faster player quickly resents the slower player. Sabattini actually walked off the 17th hole to the next tee before Crane had holed out – a golf etiquette "no-no".
On that day, Sabbatini shot a 79 and Crane a 65.
Sabbatini was clearly PRESSING, even if the only thing he was focused on was the time.
Now here's the right golf psychology to how you stop PRESSING, even when you're golfing with irritating playing partners:
First, you remind yourself of the obvious: the only thing you can control is you.

You next choose a Right Focus for your next hole that is within your direct and immediate control and completely commit to it.
Example:  your routine for your next shot is within your control. If a golfer is engaged in slow play, you will have an advantage because you have plenty of time to relax, choose the right club and implement your routine.
Nobody said you have to watch the player who takes numerous practice swings.
During your practice swings, walk away from your ball and look at where the flag sits to decide the best strategy for your approach shot.
While the slow player takes forever to line up a putt, look at your own putt from another angle and figure out whether your putt is with or against the grain.
With a proper Right Focus  you will become even more "dialed in" to what's happening on the golf course.
And the more you absorbed you become in it, the better you're going to play.
Your mental golf psychology will shield you from pressure.
Irritating golfers will no longer register on your radar screen. They will simply fade away.
That's why having a plan for your mental game of golf is so critical.

You easily and simply take control of your golf psychology and set yourself up for winning.
The best way to do it is through my Ebook, Breakthrough Golf! Lower Your Score Now Using the Mental Secrets of Professional Athletes.
You discover the golf psychology secrets hoarded by champions that none of the other golfers you're playing against know about.  Click here to try it for free for seven days
Your friend,
Lisa B.