How To Get More Power In Your Drives Using Golf Psychology
Golf Psychology Secrets Reveal!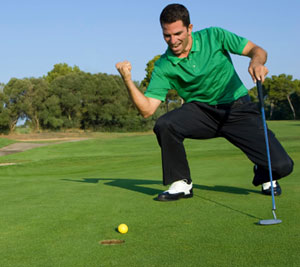 Here's how to get more power in your drives overnight using this easy golf psychology tip.
I've said it many times.
One of the most common causes of short distance is over-tighness in your grip.
As pro John Daly said, "I'll see guys squeezing a club like they were trying to wring out a dishrag."
A tight grip reduces your backswing, which reduces your distance.
Your tight hands also creates poor wrist action, which inhibits your power even more.
Tension in your hands is one of the easiest ways to guarantee you'll be inconsistent on the golf course.U.S. Open Champion Jim Furyk has two remedies: the double interlocking group or the double overlapping grip.
With the double overlapping grip, you wrap the last two fingers of your right hand over the index and middle fingers of your left hand.
With the double interlocking grip, you interlock the index finger of your left hand and the last two fingers of your right hand.
At this point you're wondering where the golf psychology part comes in.
After all, the golf grip is not golf psychology.
Or is it?
Here's the deal.
When you are frustrated or anxious out there, telling yourself to relax rarely does the trick.
Your mind is all worked up.

So your body follows suit.
A new golf grip will naturally reduce tension in your hands without you trying to relax yourself deliberately.
It will also get your mind off your last shot by giving you something constructive to try on the next one.
And no matter which grip you use, here's the key, courtesy of Steve Bosdosh, Golf Magazine top 100 Teacher:
Hold the handle of your club more in your fingers. Make an athletic, tension-free motion without concern for the outcome.
When you use your golf grip as a playground, your mental golf psychology will start to fall into place.
In my Ebook Breakthrough Golf, I give you a roadmap for confidence under pressure in golf.
These principles have helped me and over 3,000 athletes and coaches to build unstoppable confidence from the inside out.
Confidence is the gift that keeps on giving.
It keeps you motivated, passionate, and ready to compete.
So let me get you started. Download it for seven days FREE with our complimentary trial and kickstart your golf psychology today:
http://www.sports-psychology-tips.com/golfpsychologysecrets
Your friend,
Lisa B.