Trying Softer – A Radical Golf Psychology Technique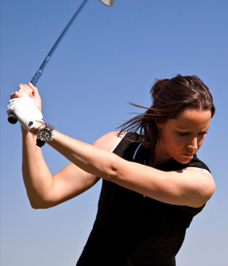 Playing Your Best Golf Is Easy With This Radical Golf Psychology
There's a radical golf psychology that plays an integral role in the performance of every great golfer.
This tip stems from a common psychological phenomena: that you shoot your best rounds when you aren't "trying" to play your best.
You simply played the game you love, and the magic happened.
But when you actually "try" to succeed, however, your game gets less enjoyable.
It's quite the dilemma.
When you stand at the tee and "try" to hit a straight drive, you slice. Then when you "try" to compensate for it, you hook.
And every carefully planned putt stops short of the hole.
In fact, the harder you try, the worse you get.
Mental golf Psychology: "Trying Softer"
A radical alternative to trying harder is "trying softer".
This golf  psychology technique is quite contrary what you've been taught about your golf game.
It's the idea of "letting go", and allowing your shots to happen rather than trying to make them happen.
There's a technical reason for why golfers succeed with a "trying softer" mentality.
Most golfing errors are brought on by tension and anxiety.
When you're anxious or "trying harder", your muscles tense up, leading to inevitable mistakes.
You may not be aware of the tension, even as it is negatively affecting your game.
Deepak Chopra's Golf Psychology Tips
In one of his golf psychology tips Deepak Chopra advises, "Each of us is endowed with a natural swing.
Through non-doing, you let go of all the bad habits you've added to the simple motion of a club head falling to earth on its own accord."
Paula Creamer's Mental Game of Golf
Paula Creamer "tried softer" as she won the 2010 U.S. Women's Open Championship, after having consistently come up short at the big one for years.
In fact, Creamer had been called 'one of the greatest players to never win the U.S. Open.'
Ouch.
As she held the champions trophy, Creamer explained how she'd overcome such extreme pressure.
"Four weeks after thumb surgery I arrived at Oakmont. My game was a mess, and I was struggling on the range. During a practice round Monday I realized I couldn't and shouldn't play my typical aggressive game.
Instead my goal would be to string together pars, which I knew would move me up the leader board.
After working with my swing coach I felt better about how I was hitting it and thought, 'Just keep making pars. There are a lot of days left.'"
Champion golfers comprehend the importance of not holding on too tight. "Trying Softer" is a simple mental golf mindset you can learn with a little practice.
My Ebook "Breakthrough Golf! Lower Your Score Now Using the Mental Secrets of Professional Athletes" reveals little-known mental golf psychology strategies for winning.
Click here to download it FREE with our seven day trial
Your friend,
Lisa B.