"Lisa, thanks for what the Courage to Win has done for our basketball training this year.
You'll never guess what happened to Ashley, a fourth year player and starting shooting guard. She was having
one of those nights where nothing was working. We were playing the #7 ranked team in the country and
the game was close. The other team was keying on her and she couldn't get a shot to drop. I ran a couple
of plays especially designed to get her an open shot and even those wouldn't go in.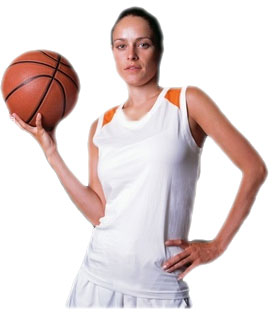 Ashley is a natural talent but once she stops making shots, she gets discouraged and the rest of her game
follows suit…it is very detrimental to our team. At half time, I was beside myself, but I calmed myself down and said to her in front of the team: 'Ashley, you have a tremendous opportunity in front of you right now. I know you are upset with how you played in the first half but you have an opportunity to turn it around. You are a much better player than you showed. You are one of the best shooters in our conference. You can wallow in self-pity and give in to learned helplessness or you can make another choice.
One of the most powerful things available to each of us is the ability to save ourselves. Once you realize you
can save yourself, it is liberating, freeing and motivating because you realize you can depend on yourself. You don't need a coach or teammate to save you. You don't need somebody to give you a pep talk or run a special play.
You realize it lies within you and all you need to do is have the courage to step forward. The choice is yours – you can remain helpless, frustrated and full of excuses or you can use the tools that are immediately
available to you. The boat is waiting. You can sit there and let it sink or you can pull out the paddles and start rowing.'
Ashley came out blazing in the second half She scored 15 pts and almost single handledly got us back into the game. The next night against UBC, ranked #9 in the country, and scored 25 points including 7/11 from the three
point line. She was the major reason we recorded an upset win against a team that had more talent."
–University of Calgary Basketball Coach
Shawnee Harle
This is an incredible success story.
…both from an athlete and a coach.

What To Do When Your Mental Basketball Game Is Slumping
See, when you are slumping, there are two things going on with your mental game at the same time. First, you have learned helplessness. You've become passive because you tried to succeed, but an opponent overpowered or out-smarted you in some way.
Second, you're feeling sorry for yourself. You think it's not fair that YOU, someone so talented and special, should have to suffer the agony of personal failure or defeat.
I'm here to tell you:
Boo Hoo.
No one cares.
No one is even remotely interested in your self-pity. What they ARE interested in is what you're made of.
Everyone fails in sport from time to time.
There is an agony to competing that will always find you, no matter how good you are.
That's what Ashley figured out. She figured out that it was time for her to grow up and make a choice: will she be passive or aggressive?
The only way to break out of a slump is an aggressive, attacking mindset. That's the psychology of sport that works.
As for Shawnee, the coach, she is a genius, because she laid the choice out for Ashley — in public, in front of her peers. What competitive athlete wouldn't respond to that?
Nice work, ladies.
If you're reading this and thinking, "I really need to get my basketball mental game handled now, you can get access now to more sports psychology and mental toughness tips.

In just 90 seconds of Michael Jordan's acceptance speech for the NBA Hall of Fame, he gives us some major pearls about his basketball mental game.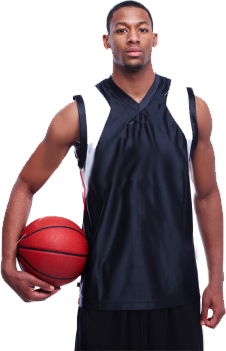 On the will to win:
"I could never please Tex [former coach, Tex Winter]. I remember a game, we were down 5-10 points, and I go off for about 25 points and we win the game… I remember we're walking off the court and Tex look at me, and he says,
"You know, Micheal, there's no 'I' in team."
I said "Tex, there's no 'I' in team, but there's an 'I' in WIN."
Of course, being a team player is important.
But equally important is summoning the mental toughness to display the will to win.
When you do, you give courage to your teammates. This is what the word 'en-courage' means – to give courage to.
The truth is, it takes guts to stand out from the crowd and aspire greatness. You may face judgment, envy, and even outright rejection from people who witness your greatness first hand.
But you can still give yourself permission to be great — to show the will to win, even if it makes someone around you uncomfortable.
You will never be happy dimming yourself down for others.
Michael On The Sports Psychology Skill of Motivation:
"And then you had all the media naysayers…you know, 'scoring champion can't win the NBA title…'; You're not as good as Magic Johnson; You're not as good as Larry Bird. You're good, but you're not as good as those guys.
I had to listen to all this. And that put so much wood on that fire… It kept me each and every day, trying to get better as a basketball player… And for someone like me, who achieved a lot…you look for any kind of messages to keep you motivated to play the game of basketball."
This one is a biggie, because every single one of us has been put down and let down by others…and felt the shame and humiliation of that.
Michael Jordan is here to say: channel your frustration. Channel your anger. Let it drive you towards excellence, towards who you really are.
Remember, as a basketball player, you are here to display a grace, beauty, and heroism.
You're here to inspire us all.
To watch the video clip of Michael Jordan click here.
Get access to more sports psychology and mental toughness tips.
Light it up out there,
Lisa B.