The Psychology of Golf: Steel Yourself To Be A Tough Competitor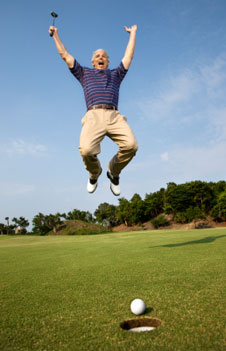 Many golfers accidentally sabotage their golf psychology by assuming they are supposed to have positive expectations all the time.
So they go into a round expecting it to unfold well. This is a BIG mistake in golf psychology. Huge.
It's one of those psychology of golf tips no one ever tells you. Tough competitors expect to win, but they also expect major bumps along the way.
That's because sport is a war, complete with an enemy: your opponent.
Wayne Gretzky, one of the greatest hockey players ever, understood that sport is a war.
After Wayne was traded from Edmonton to Los Angeles, he had to go back and play against his old friends. He recalls:
'Sooner or later I had to go to the one place I dreaded. Glen Sather didn't say a word to me because I was on the other team now….I thought Mess [Edmonton centre Mark Messier] would check me, but I was wrong. He steamrolled me, backed up and steamrolled me again. Mark is a competitor and this was a game he wanted to win.'
Even golf, which promotes sportsmanship with your opponent, you are in a war…a war of control.
You are trying to control something that can't be controlled: a ball.
You can be an extremely TOUGH competitor by STEELING yourself for the worst on the path to winning.
In the Tournament Players Golf Championship several years ago, Tom Kite and Chip Beck were the final twosome. Chip started out horribly, making four bogeys on the front side shooting 40.
But then Tom did something interesting.
He EXPECTED Chip to improve. He assumed Chip would be as hot on the back side as he had been cold on the front.
Chip did get hot, shooting 31.
Tom stuck to his mental game plan.
At the final hole, Tom teed off with a two-stroke lead.
Chip had a tricky, downhill putt of 25 feet.
Tom immediately assumed Chip would make that putt.
Sure enough, Chip did.
If Chip's putt had surprised Tom, his next putt would have suddenly become much harder. But Tom was perfectly PATIENT. His emotional state did not change when Chip's ball disappeared into the hole.
Tom holed his par putt and won the tournament.
The simple act of being patient — about circumstances, opponents, even your performance — will keep your focus on track.
Want to be a genuinely tough competitor?
The best path I know is my Ebook, Breakthrough Golf! Lower Your Score Now Using the Mental Secrets of Professional Athletes. In it you learn the amazing mental toughness secrets of superstar golfers.
One of these secrets is how to create breakthrough confidence in yourself by self-correcting errors on the golf course.
Lots of golfers want confidence but don't really know how to resurrect it when it falters out there.
So they never become truly consistent.
My Ebook shows you simple, practical sports psychology golf strategies for the skill of creating breakthrough confidence.
This radically changes the way you approach golf. You can now play with confidence, determination and hope.
You start winning consistently and effortlessly, without you having to try so hard.
The best part is I guide you every step of the way. Every day I get emails from golfers who are finally reaching their potential out there.
It all starts with you taking the first step. You can check my golf psychology Ebook for seven days FREE here: Breakthrough Golf! Lower Your Scores Now Using The Mental Secrets of Professional Athletes.
Your friend,
Lisa B.