A Golf Psychology Success Story: He Beat Icons Like Tiger (Not In Golf Psychology Books)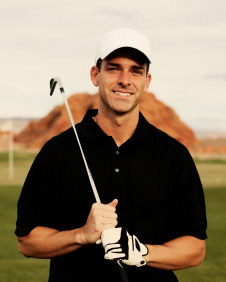 In 2010 North Ireland's Graeme McDowell demonstrated that at top levels of sport, winning is indeed about golf psychology.
It is the player with the best golf mental game, not the best technical one, who goes home with the top prize.
In McDowells's case, it was the first time in 40 years that a European has won the US Open. And it was all due to the mental golf psychology technique I call 'classic realism.'
McDowell never lost sight of the difficulties the Pebble Beach course poses. Realizing that his chances of winning were slim, he (smartly) lowered his expectations and kept his composure as a result.
After missing shots on the 9th and 10th holes, he was frustrated but not stunned. He said: "If you go chasing birdies, they'll quickly turn into bogeys."
In the mental game of golf, you employ classic realism by grasping the difficulty of the course while appreciating the many positive things you are doing.
This keeps you grounded, confident, and composed instead of frustrated.
Ever watch a Clydesdale horse travel? His rhythm is slow and steady…not up and down like a racehorse.
In poker, there's an expression: "He's playing on TILT."
When a poker player loses a hand he should have won, he wants to recoup the money and starts taking outrageous chances.
Playing on TILT is a ticket to Brokeville. Once your expectations are out of control, you become stupid aggressive instead of smart aggressive.
This is the exact mental trap that McDowell avoided. As he reflected while hugging the US Open silver trophy, "It's so difficult to win a golf tournament, let alone a major. I'm just so thrilled to get over the line."
Learning simple golf psychology tips like classic realism is actually very easy with the right source. It's why I wrote my Ebook, "Breakthrough Golf! Lower Your Scores Now Using The Mental Secrets of Professional Athletes." It's a powerful golf psychology that will transform your game literally overnight. You can even download it free using our seven day trial here:  http://www.sports-psychology-tips.com/golfpsychologysecrets/
Your friend,
Lisa B.