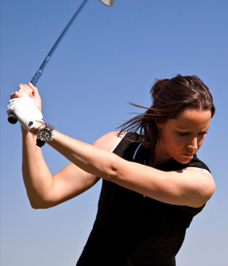 Playing Your Best Golf Is Easy With This Radical Golf Psychology
There's a radical golf psychology that plays an integral role in the performance of every great golfer.
This tip stems from a common psychological phenomena: that you shoot your best rounds when you aren't "trying" to play your best.
You simply played the game you love, and the magic happened.
But when you actually "try" to succeed, however, your game gets less enjoyable.
It's quite the dilemma.
When you stand at the tee and "try" to hit a straight drive, you slice. Then when you "try" to compensate for it, you hook.
And every carefully planned putt stops short of the hole.
In fact, the harder you try, the worse you get.
Mental golf Psychology: "Trying Softer"
A radical alternative to trying harder is "trying softer".
This golf  psychology technique is quite contrary what you've been taught about your golf game.
It's the idea of "letting go", and allowing your shots to happen rather than trying to make them happen.
There's a technical reason for why golfers succeed with a "trying softer" mentality.
Most golfing errors are brought on by tension and anxiety.
When you're anxious or "trying harder", your muscles tense up, leading to inevitable mistakes.
You may not be aware of the tension, even as it is negatively affecting your game.
Deepak Chopra's Golf Psychology Tips
In one of his golf psychology tips Deepak Chopra advises, "Each of us is endowed with a natural swing.
Through non-doing, you let go of all the bad habits you've added to the simple motion of a club head falling to earth on its own accord."
Paula Creamer's Mental Game of Golf
Paula Creamer "tried softer" as she won the 2010 U.S. Women's Open Championship, after having consistently come up short at the big one for years.
In fact, Creamer had been called 'one of the greatest players to never win the U.S. Open.'
Ouch.
As she held the champions trophy, Creamer explained how she'd overcome such extreme pressure.
"Four weeks after thumb surgery I arrived at Oakmont. My game was a mess, and I was struggling on the range. During a practice round Monday I realized I couldn't and shouldn't play my typical aggressive game.
Instead my goal would be to string together pars, which I knew would move me up the leader board.
After working with my swing coach I felt better about how I was hitting it and thought, 'Just keep making pars. There are a lot of days left.'"
Champion golfers comprehend the importance of not holding on too tight. "Trying Softer" is a simple mental golf mindset you can learn with a little practice.
My Ebook "Breakthrough Golf! Lower Your Score Now Using the Mental Secrets of Professional Athletes" reveals little-known mental golf psychology strategies for winning.
Click here to download it FREE with our seven day trial
Your friend,
Lisa B.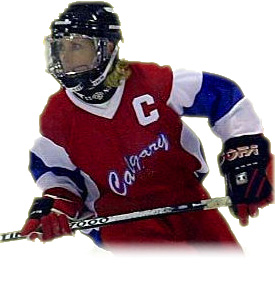 You're on the verge of learning secrets most athletes and coaches will never know about winning under pressure.
Hi, it's Lisa B. here and I got interested in sports psychology years ago as an elite athlete. Back then I really struggled with extreme confidence swings.
It really hurt me all the time.
After years of choking too often, I embarked on a mission to find answers. I wanted to know, "What do champions know about sport psychology that I don't?"
These answers didn't come overnight. I did all the traditional sports psychology stuff— (visualization, relaxation, goal-setting etc). Some of it was great, but some of wasn't…and actually made me WORSE.
My stubbornness paid off. Through trial and error, I discovered sport psychology secrets I never would have thought about winning under pressure — even things that went against traditional ideas and really surprised me.
Learn Sports Psychology Secrets Most Athletes Will Never Know About Winning Under Pressure
After I learned these things I created a sports psychology system. I spent several years testing new (even radical) basketball psychology, mental golf psychology tips, and mental tennis strategies with National Team and Olympic athletes in Canada.
I taught myself how to create unshakable confidence in the hour before competing. I internalized the will to win so I could crush opponents without special speed or strength advantages. I learned how to stay focused under pressure no matter what was happening around me.
And I'm going to teach these very same secrets to you.
I'm going to teach you how to:
Deliver astonishing, explosive, flawless performances under pressure, no matter how intimidating your event is
Create unshakable confidence in the hour before your event and maintain this confidence right to the finish despite distractions, setbacks, and adversity
Transform yourself into a tough competitor with the will to win, able to crush opponents even without special advantages like speed, great technique, or stamina
Break free of your self-limiting beliefs so you can go from good to world class in your sport
Remain in a cocoon of concentration throughout your event so you stay focused and dominant
Break free of your self-limiting beliefs so you can go from good to world class in your sport
Remain in a cocoon of concentration throughout your event so you stay focused and dominant
Just enter your name and email address below and let me teach you how to win under pressure.
Your friend,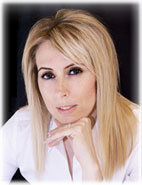 Lisa Lane Brown, M.A.
Get a rock solid golf psychology for winning on the golf course, my Ebook, Breakthrough Golf! Lower Your Score Now Using the Mental Secrets of Professional Athletes is the fastest way to do it.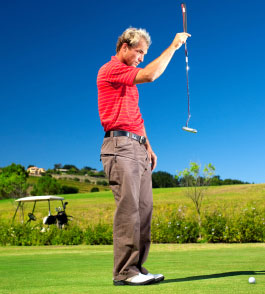 Positive thinking is a powerful mental golf psychology weapon.
You can use it to win under pressure, because most golfers really have no idea how to think positively.
There are two steps to this psychology in golf.
The first is realizing how much your beliefs affect you.
Whatever you say to yourself – and believe – on the golf course will determine what you do.
Psychological studies in the past 25 years have proven that we don't do things based on what happens to us.
We do things based on what we THINK will happen to us.
We don't go to work because we get paid. We go to work because we THINK we'll get paid.
You don't miss a putt because you missed your last one.
You miss it because you missed your last one and you THINK you will miss your next one.
Realizing how quickly you become pessimistic on the golf course is critical, because you can easily guard against it.
Now that you know how potent your beliefs are, you must understand what positive thinking is (and is not).
Positive thinking is NOT telling yourself you're playing well when you aren't.
Nor is it telling yourself you're confident when you aren't.
Positive thinking is convincing yourself that your negative setbacks are temporary.
If you hit a bad drive, you think, "Now my nerves are settled so I can really drive the ball."
If you hit a bad putt, you think, "I can use what I just learned about reading the green on my next putt."
This is the essence of positive thinking: making sure you view setbacks shots as a natural yet TEMPORARY phenomenon during your golf game.
The easiest technique is to continually remember your strengths.
A wonderful example is Jerry Barber, perhaps the shortest golfer ever to win a major title. Barber was 5′3″ and won the 1961 PGA Championship by remembering his strengths.
In a playoff vs. Don January, Jerry was outdriven on most holes. But, he was never tempted to try for more distance off the tee. He stayed positive and realistic about his lack of driving distance. He virtually never pressed or tried shots he was not able to execute.
In the 18th hole playoff, Barber chipped and putted tremendously and shot a 67 to January's 68.
He was a model of disciplined, positive thinking.
You can do the same.
Negative thoughts can and will enter your mind when you golf.
Your job is not to eliminate them.
Your job is to answer them with believable, realistic answers based on your strengths.
Taking control of your mental game of golf is easy when you know the fundamentals.
When you know how champions approach frustrating and pressure-filled situations, you can do the same.
It's why I created my eBook, Breakthrough Golf! Lower Your Score Now Using The Mental Secrets of Professional Athletes.
It's a practical roadmap that reveals the mental golf psychology you need to play well and win anytime, anywhere.
The best part is you can check it out FREE using our seven day trial here:
Golf PsychologyBreakthrough Golf! How To Lower Your Score Now Using Mental Secrets of Professional Athletes.
Your friend,
Lisa B.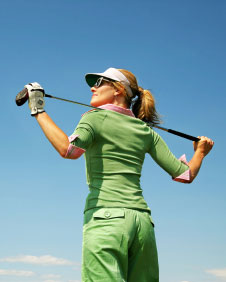 If you are like most golfers, you do not realize how much the fear of losing gets in your way when playing – nor do you realize how much golf psychology could help you banish this fear.
Letting go of the fear of losing can transform you from a good golfer to a great golfer;
it can also help you enjoy golf a heck of a lot more.
Using mental golf psychology, you can learn to let go of any distraction, including the fear of losing.
Here are some golf psychology tips to get started on the road to mental freedom:
First, it is okay to want to impress others.
Spectators WILL view you differently when you win and admitting this to yourself is important.
Now you can use this fact as motivation to practice and improve your game.
Next, realize that what you really fear is REJECTION from someone watching you.
This is not the same as fearing failure.
When you fear failure, you're worried about what you will think of yourself.
When you fear rejection, you're worried about what others will think of you.
I've noticed that golfers who fear rejection have always used golf as a way to get respect and approval from someone else – maybe their Dad or their peers.
If this describes you, I want you to notice something.
When you play well and win, you love and approve of yourself.
And when you play poorly and lose, you disapprove of yourself.
It happens so fast you're not even aware of it.
People don't have to be watching to make you feel this way.
You bring these emotions on yourself.
Realize that it is YOU who is creating any internal struggle.
Bear in mind I'm not talking about disappointment over losing.
Disappointment at losing is natural – you're a competitive person and I would expect nothing less.
But berating yourself for losing is not. That's self-created.
Now here's a radical thought;

You should never speak to yourself in a way that you wouldn't be comfortable speaking to someone else.
I love Golf pro Dave Love's golf psychology approach to this:
"My [father] would always tell me to be my own best friend on the golf course.

If I'd berate myself he'd say, 'Would you talk to your best friend that way?" And I'd say, 'No.' And he'd say, 'Then don't talk to yourself that way either.

Be patient with yourself. Be your own best coach. If your coach shouldn't berate you, then don't do it yourself.'
Remember, golf is not about proving yourself, but about expressing yourself.
Expressing yourself is a golf psychology that is unstoppable. And it begins with you being your own best friend out there.
Are you ready to be mentally tough on the golf course?
You can do it in just seven days.
I am absolutely serious.
That's why I created my Ebook, Breakthrough Golf! How To Lower Your Score Now Using Mental Secrets of Professional Athletes.
And I invite you to check it out for seven days for FREE. Download it and try these strategies with your game today. Go here: Golf Psychology – Breakthrough Golf! How To Lower Your Score Now Using Mental Secrets of Professional Athletes.
Your friend,
Lisa B.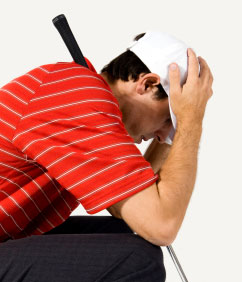 The Golf Psychology Cure For Over-Analysing and Over-Thinking
Over-thinking and over-analyzing are two diseases that will sabotage your golf psychology every time.
In the rest of life, thinking and analyzing are good.
They help you solve problems.
On the golf course, however, you'll end up thinking your ball right into the water, sand trap, or rough.
If you're a superstar thinker, instead of trusting your body and your heart, you'll over-analyze every shot.
Slice a drive?
You'll start analyzing your hips and elbows.
Over hit a putt?
You'll start analyzing your wrists.
Not good.
You cannot swing and think about your swing at the same time. You'll become self-conscious and clumsy before you can say, "birdie."
In the words of PGA pro John Daly:
"The average golfer steps up to the ball and starts thinking a mile a minute. 'What's my target line, how's my grip, where are my elbows, take it back low and slow, remember to pivot, cock my wrists, bring my shoulder down and through–what'd I forget?
Shit, with all that thinking going on, it's wonder every swing doesn't end up a whiff. Let me tell you, by the time I'm ready to start my swing, I've stopped thinking. I've looked close at my lie, I've checked my distance, I've factored in the wind, and I've figured out where I want to ball to end up–all BEFORE I step up to the ball. Then what I try to do is go blank. Not consciously think 0.about ANYTHING. Just swing the club."
John is explaining what you already know instinctively. When you second-guess yourself, you become unable to engage your Great Jock Mind.
Your Great Jock Mind is your organic sixth sense in golf. It's what allows you to make quick adjustments, read greens, and assess weather conditions.
When you over-ride your Great Jock Mind by over-thinking and over-analyzing, you quickly snuff it out. It lays dormant and only surfaces briefly from time to time, much to your frustration.
Turning off your analytical mind is easy to do when you set your mind to it. You start by making a decision to trust yourself rather than analyze yourself – no matter how experienced you are.
Then you practice self-trust. This means resisting the temptation to over-analyze and make technical adjustments and use simple, practical golf psychology on every shot instead.
To get access to winning golf psychology, go ahead and download my Ebook, Breakthrough Golf! Lower Your Scores Now Using The Mental Secrets of Professional Athletes.
Using practical golf psychology tips for generating breakthrough confidence on the golf course, you will lower your score in just seven days. You can try it free using our seven day trial here:
http://www.sports-psychology-tips.com/golfpsychologysecrets/
Your friend,
Lisa B.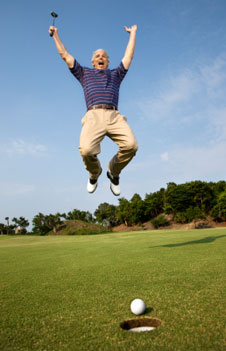 Many golfers accidentally sabotage their golf psychology by assuming they are supposed to have positive expectations all the time.
So they go into a round expecting it to unfold well. This is a BIG mistake in golf psychology. Huge.
It's one of those psychology of golf tips no one ever tells you. Tough competitors expect to win, but they also expect major bumps along the way.
That's because sport is a war, complete with an enemy: your opponent.
Wayne Gretzky, one of the greatest hockey players ever, understood that sport is a war.
After Wayne was traded from Edmonton to Los Angeles, he had to go back and play against his old friends. He recalls:
'Sooner or later I had to go to the one place I dreaded. Glen Sather didn't say a word to me because I was on the other team now….I thought Mess [Edmonton centre Mark Messier] would check me, but I was wrong. He steamrolled me, backed up and steamrolled me again. Mark is a competitor and this was a game he wanted to win.'
Even golf, which promotes sportsmanship with your opponent, you are in a war…a war of control.
You are trying to control something that can't be controlled: a ball.
You can be an extremely TOUGH competitor by STEELING yourself for the worst on the path to winning.
In the Tournament Players Golf Championship several years ago, Tom Kite and Chip Beck were the final twosome. Chip started out horribly, making four bogeys on the front side shooting 40.
But then Tom did something interesting.
He EXPECTED Chip to improve. He assumed Chip would be as hot on the back side as he had been cold on the front.
Chip did get hot, shooting 31.
Tom stuck to his mental game plan.
At the final hole, Tom teed off with a two-stroke lead.
Chip had a tricky, downhill putt of 25 feet.
Tom immediately assumed Chip would make that putt.
Sure enough, Chip did.
If Chip's putt had surprised Tom, his next putt would have suddenly become much harder. But Tom was perfectly PATIENT. His emotional state did not change when Chip's ball disappeared into the hole.
Tom holed his par putt and won the tournament.
The simple act of being patient — about circumstances, opponents, even your performance — will keep your focus on track.
Want to be a genuinely tough competitor?
The best path I know is my Ebook, Breakthrough Golf! Lower Your Score Now Using the Mental Secrets of Professional Athletes. In it you learn the amazing mental toughness secrets of superstar golfers.
One of these secrets is how to create breakthrough confidence in yourself by self-correcting errors on the golf course.
Lots of golfers want confidence but don't really know how to resurrect it when it falters out there.
So they never become truly consistent.
My Ebook shows you simple, practical sports psychology golf strategies for the skill of creating breakthrough confidence.
This radically changes the way you approach golf. You can now play with confidence, determination and hope.
You start winning consistently and effortlessly, without you having to try so hard.
The best part is I guide you every step of the way. Every day I get emails from golfers who are finally reaching their potential out there.
It all starts with you taking the first step. You can check my golf psychology Ebook for seven days FREE here: Breakthrough Golf! Lower Your Scores Now Using The Mental Secrets of Professional Athletes.
Your friend,
Lisa B.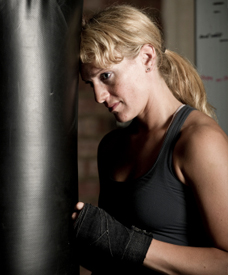 I just posted a new audio for you called, "How Most Athletes Are Crippling Their Mental Toughness – Especially If They Are Using Sports Psychology!"
This audio is straight from a special interview I did with the American Coaching Academy. I reveal:
The myths of traditional sports psychology and why some of these ideas can make you worse under pressure…
How to deal with overwhelming nerves or performance anxiety so you can re-focus and get your confidence back
How to identify your 'demon stressor' – the one distraction in competition that blows your mind
…and much more.
Access this mental toughness interview now.
Let me know what you think.
Your friend,
Lisa B.
Most sports psychologists push positive thinking on you all the time.
They kind of imply that if you are angry or frustrated it's because you have dysfunctional thinking.
I've found that the easiest, most profound way to deal with your fears and frustrations is just to accept them without resistance (instead of trying to manipulate yourself out of these feelings using positive thinking).
Most athletes are quite dismal at this.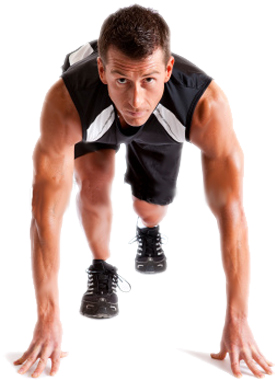 We judge, condemn, and rebuke ourselves any time we aren't 100% confident, positive, and happy. We tell ourselves to 'get over it,' not let disappoinments 'get to us,' and that fear or performance anxiety is a sign of weakness.

A Powerful Sport Psychology Strategy – Self-Acceptance
Tremendous relief comes from self-acceptance, because you do not having to pretend, cover up, or suppress your fears about competing.
You enjoy an inner relaxation that is heavenly.
And there is even more good news.
When you accept yourself, it's easy to 'drill down' and discover WHY you are feeling anxious, stressed, or frustrated about any aspect of sport.
Such self-awareness is powerful.
It allows you to DIAGNOSE the root cause of your performance anxiety before you PRESCRIBE a solution for it. The idea 'DIAGNOSE before you PRESCRIBE' is as old as time itself, and central to mental toughness.
For example…
Your motivation to practice is low. You think you're being lazy, but when you truly listen to your malaise, you correctly DIAGNOSE that you have no idea why you lost your last competition — and you can't get all your motivation back until you do.
You're terrified of choking under pressure. You think it's because a big event is coming up, but when listen to your performance anxiety, you DIAGNOSE that since you've nevercompeted internationally before,
you're totally unsure about what to expect.
You get annoyed when your father is highly critical after important games. You think it's because he's right in his criticisms, but when you listen to your fear, you DIAGNOSE that what you really need is unconditional support — and he's not getting the memo.
You're doubting yourself. You think it's because your coach is being harsh, but when you listen to your stress, you DIAGNOSE that you secretly agree with his comments and want to improve and stop making the same mistakes…but have no idea how.
The Inner Barrier to Self-Acceptance
Of course, the reason we find it so hard to accept ourselves is that sometimes, we are not the athlete we would like to be. When we dislike something, we resist it–and the fears that come with it.
Consider element of your skills, fitness, or conditioning. Is your attitude towards it one of acceptance or resistance?
You may be wondering, "What if I despise something about myself? How can I accept it? And IF I accept it, am I stuck with my bad serve, poor agility, or limited defensive instincts?
The answer is No.
I am not asking you to accept an unsatisfactory situation. I am merely asking you to accept your fears about it so you can DIAGNOSE the root cause of your fear so you can do something about it.
Most problems in sport can be solved, but you have to know what they are first.
The courage to accept your fears–and yourself–always paves the way for change and better performance.
Get access now to more sports psychology and mental toughness tips.

In just 90 seconds of Michael Jordan's acceptance speech for the NBA Hall of Fame, he gives us some major pearls about his basketball mental game.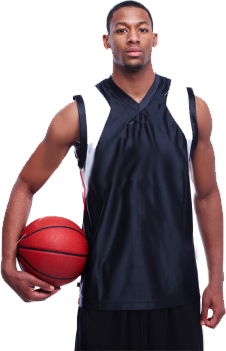 On the will to win:
"I could never please Tex [former coach, Tex Winter]. I remember a game, we were down 5-10 points, and I go off for about 25 points and we win the game… I remember we're walking off the court and Tex look at me, and he says,
"You know, Micheal, there's no 'I' in team."
I said "Tex, there's no 'I' in team, but there's an 'I' in WIN."
Of course, being a team player is important.
But equally important is summoning the mental toughness to display the will to win.
When you do, you give courage to your teammates. This is what the word 'en-courage' means – to give courage to.
The truth is, it takes guts to stand out from the crowd and aspire greatness. You may face judgment, envy, and even outright rejection from people who witness your greatness first hand.
But you can still give yourself permission to be great — to show the will to win, even if it makes someone around you uncomfortable.
You will never be happy dimming yourself down for others.
Michael On The Sports Psychology Skill of Motivation:
"And then you had all the media naysayers…you know, 'scoring champion can't win the NBA title…'; You're not as good as Magic Johnson; You're not as good as Larry Bird. You're good, but you're not as good as those guys.
I had to listen to all this. And that put so much wood on that fire… It kept me each and every day, trying to get better as a basketball player… And for someone like me, who achieved a lot…you look for any kind of messages to keep you motivated to play the game of basketball."
This one is a biggie, because every single one of us has been put down and let down by others…and felt the shame and humiliation of that.
Michael Jordan is here to say: channel your frustration. Channel your anger. Let it drive you towards excellence, towards who you really are.
Remember, as a basketball player, you are here to display a grace, beauty, and heroism.
You're here to inspire us all.
To watch the video clip of Michael Jordan click here.
Get access to more sports psychology and mental toughness tips.
Light it up out there,
Lisa B.
I have learned a secret…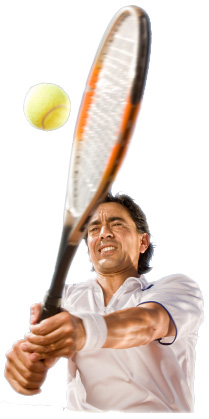 I have learned a secret about mental toughness in sport that only 3% of athletes out there have discovered.
Most athletes will never figure out this sport psychology secret (and kill their mental toughness in the process) because it is the opposite of what they have been taught.
Let me explain…
Because they have been told to be positive in sports psychology articles, most athletes decide they can CONTROL things they cannot.
If I ask a tennis player if he can control the accuracy of his serve, he'll say Yes.
If I ask a hockey player if he can control picking up a pass, he'll say Yes.
If I ask a volleyball player if she can control where she spikes the ball, she'll say Yes.
But, let me ask you this:
If you could CONTROL these things, why would you ever make a mistake?
The truth is, you cannot control these outcomes. But if you believe you can control them,
you will PRESS.
Pressing is the opposite of trusting yourself.
When you press, you try to force an outcome.
You interfere with your technique instead of letting your body lead.
For example…
If you are a tennis player, you will try to guide and steer the ball, which messes up your strokes and erodes your game.
If you are a basketball player, you will try to do it all yourself and drive to the basket
even with 3 guys hanging off you.
If you are a baseball player, you will over-analyze your hitting technique, worrying
about your hands or your hips.
When you PRESS, you rob yourself of your innate ability to ability to relax, trust your body, and bring out your best.
A SECRET Sport Psychology Technique
Remember at the beginning when I told you that I was going to share a secret that only 3% of athletes and coaches will figure out?
Well, here it is:
Stop trying to CONTROL outcomes by pressing.
Pressing does NOT work.
Here's what to do instead.
Decide that you can easily have the outcomes you if you stop pressing, and get yourself into the "want not need" mindset.
You want and expect to win, but you do not need to win to like yourself.
Why Not Me?
Mark Tewksbury, one of the finest swimmers in the history of swimming, used the
Want, Not Need mindset to win an Olympic gold medal.
Mark says:
"The world had become more competitive. The medals, which used to be shared by 8
countries, were now finding their way to over 25 countries. Even Matt Biondi, the world record holder, were leaving the pool without going to the podium.
I thought, "Even silver would be good. I wasn not giving up, but there were no guarantees."
The first thing Mark did was refuse to PRESS about winning.
He set his sights on winning and being aggressive in the pool, but he grasped that
winning was not under his control.
Before the race, he said to himself, "Someone has to win this race. Why not me?"
"Why not me?" is a beautiful thought. It is optimistic, confident, and relaxed.
There is no PRESSING in this thought.
When you stop pressing, you relax and have fun, and let your body lead.
Get access to more sports psychology and mental toughness tips.p>
Light it up out there,
Lisa B.
© 2010 www.sports-psychology-tips.com
A source of sports psychology information